W.E.B. Du Bois
February 23, 1868–August 29, 1963
Born William Edward Burghardt Du Bois in Great Barrington, Massachusetts, the son of a barber and of a domestic servant. Entered Fisk University in 1885; spent summers teaching in the South; graduated Fisk 1888. Studied philosophy at Harvard, awarded B.A. cum laude in 1890, M.A. in history in 1891. Studied for two years in Berlin. Awarded Ph.D. in history from Harvard in 1895. Taught at Wilberforce University, 1894–97. Married Nina Gomer in 1896. Published The Suppression of the Africa Slave-Trade to the United States of America 1638–1870 (1896), The Philadelphia Negro (1899), and The Souls of Black Folk (1903). Professor of history and economics at Atlanta University, 1897–1910. Helped found National Association for the Advancement of Colored People in 1909 and edited its monthly magazine, The Crisis, 1910–34. Executive secretary of Pan-African Congress held in Paris in 1919. Later books included John Brown (1909), Darkwater (1920), Black Reconstruction (1935), and Dusk of Dawn (1940). Resigned from NAACP in 1934 in policy dispute. Professor of sociology at Atlanta University, 1934–44. Returned to NAACP in 1944 as director of special research, but was dismissed in 1948 for criticizing "reactionary, war-mongering" American foreign policy. Helped found Peace Information Center in 1950 and served as its chairman. Indicted in 1951 under Foreign Agents Registration Act for his role in the now-dissolved Center; charges were dismissed at trial later in the year. After wife's death, married Shirley Graham in 1951. Denied passport in 1952; after it was restored in 1958, visited Soviet Union and China. Settled in Ghana in 1961. Died in Accra.
"We return.
We return from fighting.
We return fighting.
Make way for Democracy! We saved it in France and by the Great Jehovah, we will save it in the United States of America, or know the reason why." From "Returning Soldiers," The Crisis, May 1919.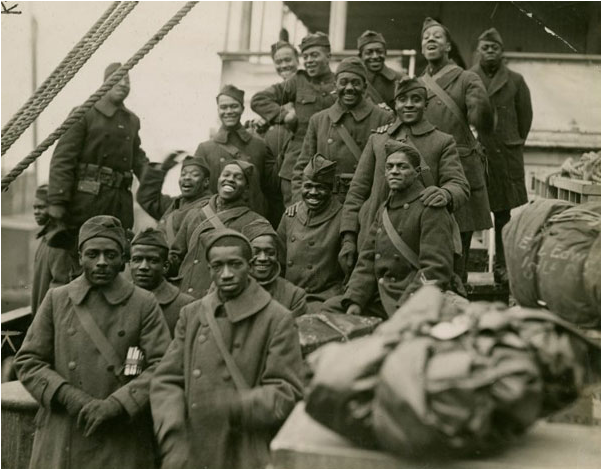 Image credit: Paul Thompson, Members of the Harlem Hellfighters relax aboard ship as they return home after World War I. (New York Public Library Digital Collections)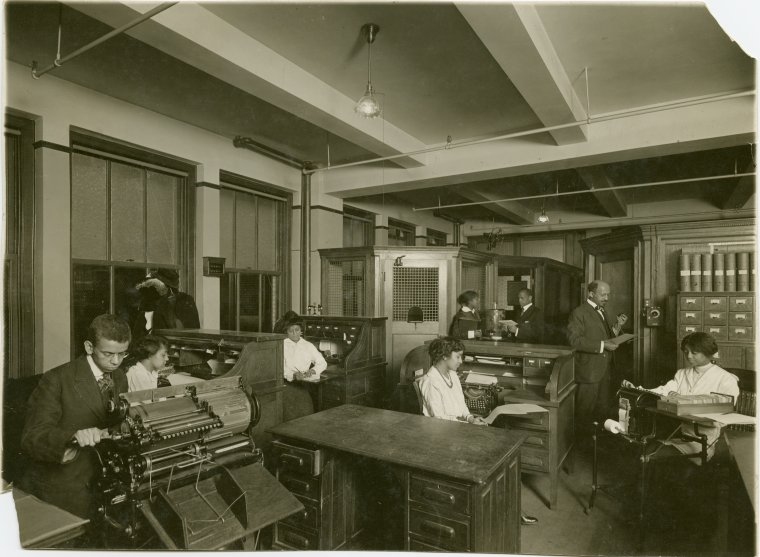 Image credit: W.E.B. Du Bois in the offices of The Crisis (New York Public Library Digital Collections)